Hello ;-)
Hi,
I'm a new member here, so I thought I'd share my own Caprica Six costume photos.
I have others of the classic Six dress that I made the year before, and I'll share those soon as well.
The following are from last year's BayCon; a sci fi convention held in California's Bay area.
This is my replica of the alternate red Caprica Six dress worn in "Pegasus" (Season 2, Episode 10).
I didn't work off of any pattern, but simply draped it on my dress form, using pictures of the actual dress as a guide.
The whole thing ended up being really easy to make, compared to the many pieces involved in the classic red Six dress I made last year.
I couldn't find a stretch silk charmeuse in the right red, so I went with a synthetic version. Still quite nice to work with, and the only futzing I did, was with the gathers at the center front where the brooch is pinned. It's a just a big cowl neckline, and it was hard to get it to not look too bulky.
Definitely making this one out of silk if I find some in the right color, for next time.
The original costume from the series:




Hopefully, I can find some better photos, but these will have to do for now.
My hair is my own ;-) Naturally blonde already, I added a toner to cool it off to an even brighter platinum blonde. I did cut it though :-( and it's just now beginning to get back to it's original length. While I really needed the trim, and it looked even shorter styled for the character, I missed my long hair. I think this year I might try to track down a wig or hairpiece I can use for the shorter style.

And yes, in case anyone is wondering how I wore this without uh...giving a peep-show, Double-sided "fashion" tape (better known as toupee tape) is a girls best friend ;-)
Enjoy the photos!

Oh, and look who my fiancee and I ran into drinking at the bar... surprise, surprise!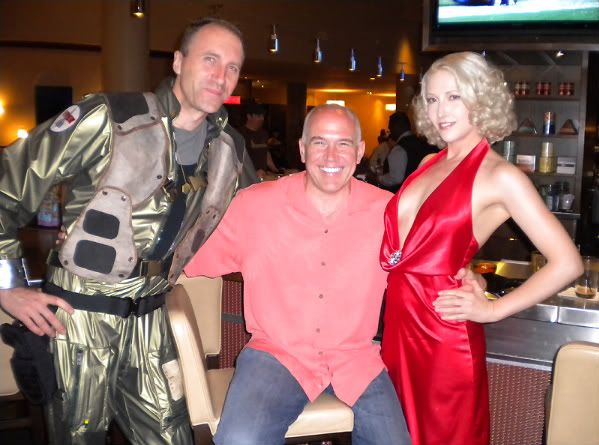 No, it's not him, but he was a dead ringer for the actor that plays Saul Tigh.
(My fiancee made his flight suit, and this one was the 'test' version)

Later, we ran into Boomer, Helen, and 'New Caprica' Saul Tigh.



I was captured by some Sandmen...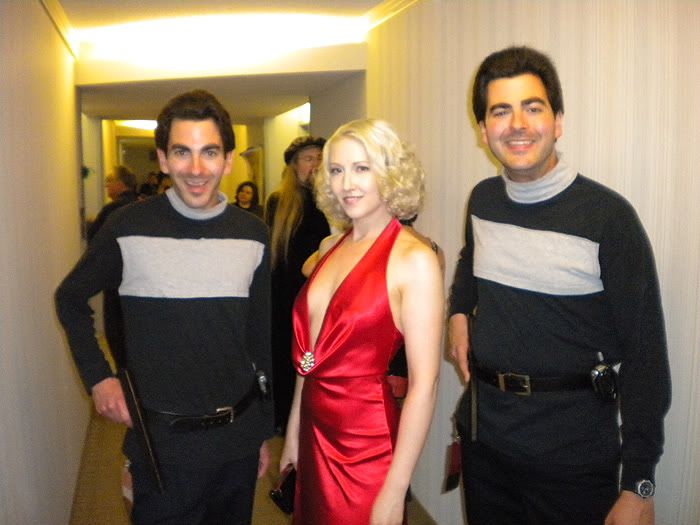 And then we took off with the Dr.